M62 hen party crash: Fund to help South Elmsall victims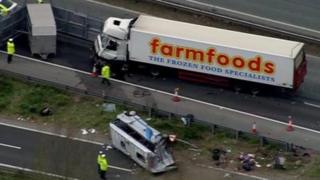 Survivors of a fatal hen party minibus crash on the M62 are to benefit from a fund set up by councillors in their home town in West Yorkshire.
Bethany Jones, 18, died when the minibus was in collision with a lorry on 26 April. Eleven women and the male minibus driver were seriously injured.
The trainee nurse was one of 21 women heading to Liverpool for a hen party.
South Elmsall Town Council has set up a fund to provide financial assistance to the victims as they recover.
'Horrific injuries'
West Yorkshire Police said 11 women and the minibus driver remained in hospital, and some faced a "long road to recovery".
Leader of the council, Labour councillor Steve Tulley, said: "It's fair to say that quite a lot of these people have received some horrific injuries, but through their resolve they're very much on the mend and for every day that goes by they are making marvellous progress.
"But having said that, they are still a long long way from getting back to where they were prior to the tragic accident almost two weeks ago.
"These people will need some assistance financially."
The lorry driver, a man from St Helens, was arrested on suspicion of death by dangerous driving and remains on police bail.