Bradford Odeon cinema's £1 sale agreed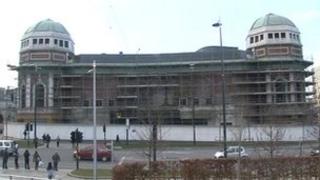 The sale of a former cinema and concert hall to Bradford Council for just £1 has been agreed, it has been confirmed.
The owner of the Odeon building, the Homes and Communities Agency (HCA), has sold the site and pledged to spend £1.3m on safety improvements.
The landmark 1930s venue, which played host to acts including The Beatles, has been derelict since closing in 2000.
The sale is subject to terms to be agreed by the council, as well as HCA ratification at a meeting on 13 May.
David Green, Bradford Council's Labour leader, said the move was "the start of some security for the Odeon".
Demolition U-turn
The former Odeon building was bought by regional development agency Yorkshire Forward in 2003, which later entered into a development agreement with Langtree Artisan.
That agreement, which would have seen the demolition of the building, was scrapped last September after the HCA took over the Odeon site following the abolition of Yorkshire Forward.
Bradford Council said it would now consider proposals for commercially viable developments which retain all or part of the Odeon building.
Mark Nicholson, from the Bradford Odeon Rescue Group, said people in the city had "high hopes" for the future of the building.
"People have wanted things to happen to that building for the last 10 years. The rewards are there to be reaped."
Several ideas for the future of the site have previously been put forward, including turning it into an arts centre or music venue.
Bradford-born artist David Hockney and film director Lord Attenborough are among a number of high profile people who have supported a campaign to save the Odeon.
The council has also agreed to buy the former Tyrls police station from the HCA for a further sum of £1.
The HCA has promised to spend £2.2m on maintenance work on that site.