Security alert cancels M62 hen party crash meeting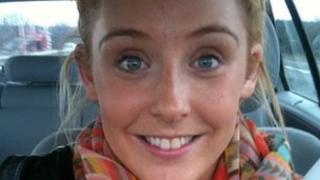 A council meeting due to feature a minute's silence for a woman killed in a hen party minibus crash has been postponed because of a security alert.
Bethany Jones, 18, a trainee nurse from South Elmsall in West Yorkshire, died last week when the minibus and a lorry collided on the M62.
South Elmsall Town Council was to hold a special meeting to discuss how it can support the victims and their families.
But the council building was housing people evacuated because of the alert.
The bomb squad was called to the town at about 12:30 BST when a suspicious package was found at a property in Field Crescent.
A 400m cordon was put in place and homes were evacuated, with about 50 people taking refuge at the council's centre in Westfield Lane.
'Couldn't make it up'
The council said it was trying to rearrange the meeting, which was due to take place during the evening, for Tuesday.
Stephen Tulley, leader of the council, said the meeting had to be cancelled to accommodate those who had been evacuated from their homes.
"You couldn't make it up," said Mr Tulley.
"It's been a crazy week for the community and a very, very testing time for us. It's just another thing that's been thrown at us."
Mr Tulley has two relatives who are still in hospital following the crash.
Miss Jones was one of 21 people on the minibus heading to Liverpool when it was involved in the crash last Friday morning.
Eleven others were seriously injured and were taken to hospital for treatment. Eight have now been discharged, South Yorkshire Police said.
Several fund-raising efforts are already under way. Friends of Miss Jones have set a target of raising £50,000 for air ambulance charities and Carlton Main Frickley Colliery Brass Band is planning a charity concert in the town on 20 May.
The lorry driver, arrested on suspicion of causing death by dangerous driving, had been bailed.