Angela Owen sentenced for concealing stillborn baby's birth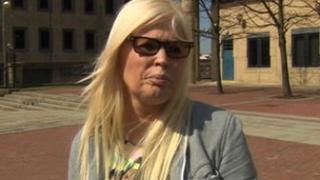 A woman who buried her stillborn baby's body in a bin liner has been given a community order.
Angela Owen's crime came to light after her baby boy's body was found by workmen renovating a 350-year-old house near Halifax, West Yorkshire, in 2006.
She admitted concealing the birth of a child and preventing the lawful burial of a corpse at Bradford Crown Court.
Owen, 47, of Bowyers Close, Glastonbury, was told to pay £400 costs and given a 12-month community order.
The court heard Owen claimed she gave birth to the stillborn baby after she was kicked in the stomach by an abusive partner, while she was living in an apartment at Howroyd Hall in Barkisland.
'Having counselling'
She travelled south after burying the body beneath a tree and was found to be living in Glastonbury after police appealed for information about her whereabouts on the BBC Crimewatch programme in 2012.
The court heard that before her arrest, Owen had taken on a number of false identities and used them to obtain a credit facilities and a Lotus Elise car by deception.
Owen also admitted fraud offences in relation to those crimes.
Speaking to the BBC outside court, Owen said she felt "very, very lucky" to have been spared prison.
She said: "I am still having counselling now for all the trauma and everything.
"It's something that someone shouldn't have to go through."