Leeds City Council uses security staff as litter wardens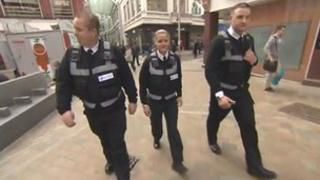 Staff from a private security firm are being used as extra litter wardens.
Five employees from 3GS will be able to issue £75 fines for littering or dog fouling in parts of Leeds during a six-month trial.
The city council said it will not be charged for the extra wardens but 3GS will receive a percentage of every fine issued by its staff.
Jeff Yates, from the Litter-Free Guiseley Campaign, said more wardens were needed to tackle the problem.
He said the trial would only have a small impact and a longer period of time was needed.
The extra wardens will target anyone "blatantly dropping litter" or not picking up after their dog.
Extra patrols will take place around the city centre as well as areas in the north and west of Leeds including Otley, Adel, Bramhope and Cookridge, which were chosen due to high levels of complaints about littering.
Residents 'fed up'
The authority, which has an £8m bill for street cleaning, has refused to disclose the percentage of each fine 3GS will get and said it was a confidential part of the agreement.
Mark Dobson, the council's executive member for the environment, said the trial was "not about raising money".
He said it was "driven by residents fed up of litter and dog mess on their streets."
Barry Anderson, Conservative councillor for Adel and Bramhope, said it was time for people who drop litter to be given "a short, sharp shock".
"We've tried to educate people, now I think it's time…we take tougher action" he said.
The council will review its policy on how to tackle littering and dog fouling once the six-month trial ends.