Trinity Leeds: Bringing shoppers to the city centre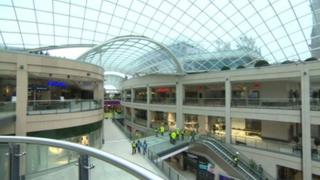 Does the opening of a city centre shopping mall really have that much of an impact on the economy of a city?
If Liverpool is anything to go by, yes.
Before Liverpool One opened in 2008 the city's centre was lacklustre and it could only muster 18th place on the all-important shopper rankings.
But all that changed once the development was complete.
Footfall increased dramatically and last year Liverpool was named the third UK domestic city break destination - a success Leeds is hoping to emulate with its Trinity Leeds complex, which opens later.
'Win-win situation'
There are certainly similarities between the two schemes.
Though smaller in scale, Trinity Leeds is also based around existing city infrastructure, many of the brands it will house are new to the region, and the centre opens in the same year as a concert arena.
There had been challenges in Liverpool, the then leader of Liverpool City Council Lord Storey says, the biggest being persuading other retailers, particularly independents, that they would not lose out.
He said: "They were concerned but by bringing in more shops, by increasing the retail and leisure, you are bringing more people in, more people to shop, more people to spend, so provided it's next to them then it's a win-win situation."
But has it been good for everyone? A few hundred yards up the road from Liverpool One is Silverberg's Opticians.
Outside the bustling centre they have seen a drop-off in trade but owner Ian Silverberg is not sure exactly what is to blame.
He said: "It's been hard to tell because in 2008 when Liverpool One actually opened the country then went into recession and turnover's been down a little bit since then and we are not sure whether it's because Liverpool One opened or whether it was because we were in a recession.
"I think really it's because we are in recession."
In many ways the opening of the centre has helped protect Liverpool from some of the effects of the economic downturn.
Ged Gibbons, the chief operating officer for the Business Improvement District in Liverpool, said success had been catching.
He said: "As we speak there's £250m of additional business in the ground in the city centre which will open in the next 12 months so it's certainly set the scene."
Leeds already has further development in the pipeline, not least Hammerson's Eastgate Quarters retail development.
But the real trick will be keeping footfall circulating through the whole city and that will come down to how well Trinity's management works with the rest of Leeds, says Liverpool One's centre manager Chris Bliss.
He said: "It's got great opportunities ahead of it. I think the one piece of advice would be that collaboration piece.
"Work together for the overall benefit of the city, be brave about what you do and go and get it and I have no doubt that Leeds city centre, with Trinity Leeds there, will be as prosperous as Liverpool is."