Halifax milk float driver sentenced for toddler's death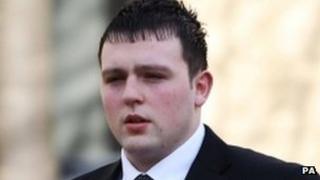 A man who killed a toddler when he reversed his milk van over her has been given a suspended sentence.
Christopher Davidson, 20, hit Zoya Hussain in West View, Halifax, after she ran out between two parked cars.
Bradford Crown Court heard the 22-month-old girl suffered abdominal and head injuries and died the next day.
Davidson, of Valley Grove, Halifax, admitted causing death by careless driving. His 10-month sentence was suspended for two years.
He was also ordered to do 250 hours of unpaid work and banned from driving for two-and-a-half years.
The court heard Davidson, aged 18 at the time, was reversing at about 14mph when he hit Zoya in August 2011.
The girl was run over by both the back and front wheels of his float.
Heard a bang
Judge Jonathan Durham Hall QC described Davidson's driving as "remarkably foolish".
He said: "A 22-month-old child who wandered from the safety of her home into the street lost her life instantaneously when the front and rear wheels of the milk lorry went over the child.
"This is a tragedy of untold proportions. Nothing this court can do can bring this child back.
"My sympathies and sensitivities are with the family of the child who was killed by a remarkably foolish but short-lived piece of driving by an otherwise decent young man."
Nick Adlington, prosecuting, told the court Davidson was aware children were playing in the street and did not ask his colleague to watch for hazards as he reversed.
Davidson reversed about 60m (200ft) down the road when he saw a blur in his wing mirror as Zoya ran into his path, and heard a bang as the milk float hit her, Mr Adlington said.
He braked but the front and back wheels reversed over the little girl before the vehicle could stop.
It was calculated Zoya would have been visible to Davidson for around 0.8 seconds before the impact.
Experts found that if Davidson was travelling more slowly, the milk float could have stopped before the wheels ran over the toddler, or the collision could have been avoided completely.