Leeds house fire leaves man dead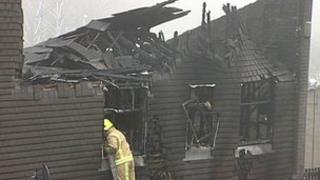 A man has died in a fire at a house in Leeds, West Yorkshire Fire and Rescue Service has confirmed.
The fire service said two crews were called to the three-storey property at Bawn Vale, Farnley, at about 04:00 GMT. The house was found to be well alight.
Firefighters discovered the body of the man after a search of the property.
West Yorkshire Police said it was conducting a joint investigation with the fire service into the cause of the blaze.
People living in two adjoining houses have had to leave their homes while the damaged property is secured, a fire service spokesman said.
It was too early to say what had caused the fire, he added.