Leeds council approves plans to end free off-peak parking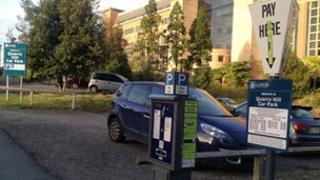 Ending free off-peak parking in the centre of Leeds has been provisionally approved by councillors.
The Labour-run authority made the decision as part of its annual budget proposals.
The authority said charging in council-owned car parks on Sundays and weekday evenings could generate an additional £200,000 in income a year.
Opposition councillors said the decision could put people off from visiting the city.
'Absolute lunacy'
Councillor Mark Dobson, from the executive board, said the authority had to look at ways of generating new income as it continues to make cuts.
He said: "In one year we have had our budget cut by around £54.9m and we have to frame a budget that tries to look after old people, our young and vulnerable people and keep our workers in employment."
Mr Dobson said the charges would be in the range of a "couple of quid" but said the actual fees would be decided when the authority had passed the appropriate traffic regulation orders.
Andrew Carter, Conservative group leader, said the decision was "absolute lunacy" when other cities, including neighbouring Bradford, were looking at extending the amount of free-parking available.
He said the council should instead look at alternative ways of generating income such as increasing the total number of parking spaces in the city.