Huddersfield soldier's Iraq gun death 'drunken incident'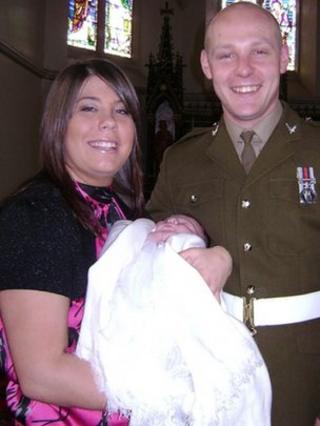 A soldier died in a drunken shooting incident while he was with three comrades in Iraq, an inquest heard.
L/Cpl David Wilson, 27, of Huddersfield, West Yorkshire, had "everything to live for" when he died at the Basra airbase in December 2008.
Brenda Trotter said a comrade of Mr Wilson's told her at his wake they had been drinking and "something happened".
At the time the Ministry of Defence (MoD) said L/Cpl Wilson was not attacked by enemy forces.
The MoD also said there was "no evidence to suggest anyone else was involved".
'All drunk'
Ms Trotter, who attended the funeral, told the inquest in Crook, County Durham, she had asked one of the soldiers present at the wake if Iraqis were to blame.
"He turned around and said 'No, there were four of us. We had been drinking. Something happened that should never have happened'," she said.
Her daughter Michelle, a friend and neighbour of L/Cpl Wilson's fiancée, also called Michelle, heard the soldier say: "We were all drunk. It was something that never should have happened."
Major Alistair Stocker told the inquest the airbase at Basra was "like a small city" and very busy.
Alcohol was only allowed at rare, formal functions and, even then, soldiers were limited to drinking two cans of beer, he said.
The inquest continues.