Bramley war memorial campaign backed by Sheldon Steel's mother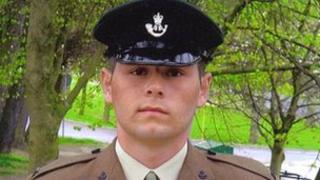 The mother of a soldier who was killed in an explosion in Afghanistan is backing a campaign to raise funds for a war memorial in his home town.
Rifleman Sheldon Steel, 20, of Bramley in Leeds, died on 27 November 2011 on patrol with 5th Battalion The Rifles.
His mother Wendy Fulthorpe has joined a group calling for a memorial in Bramley to the town's fallen soldiers.
A final design has yet to be agreed but the Friends of Bramley War Memorial estimate it will cost £80,000-£100,000.
Pledges totalling about £50,000 have so far been received from donors, including £5,000 from Miss Fulthorpe's employer Tesco.
Miss Fulthorpe is also raising funds herself by selling wristbands bearing her son's name at the Tesco store in Bramley.
She is being supported by friends and colleagues who are planning to hold a fundraising event in the town centre in the next few weeks.
'Massive support'
Friend and fellow Tesco worker Chrissy Hogarth said: "We'd love to have a memorial somewhere where people could go that's not the cemetery.
"The cemetery's quite sad, whereas a war memorial in a park is a nicer place to go.
"Stanningley, Pudsey and Armley have their own war memorials, why shouldn't Bramley?
"I work with Wendy and when somebody that you care about loses somebody, a son, how could you not support them?"
A public meeting at Bramley community centre next Thursday will be told that land at the entrance to Bramley Park has been earmarked for the memorial.
The Friends of Bramley War Memorial hope that by the end of July they will have secured an architect and artist for the project.
The local history society is currently collecting names of servicemen and women who have died in all wars to be included on the memorial.
Councillor Caroline Gruen, who represents Bramley on Leeds City Council, said: "There is currently no war memorial in Bramley and there is massive support from the community for one.
"We are delighted Sheldon Steel's mother is now involved in it. His tragic death is a poignant reminder of why we need a memorial."