Rotherham NHS Trust gets watchdog's financial warning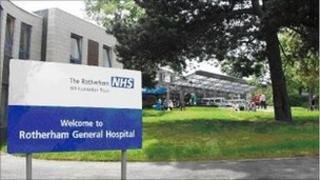 Rotherham NHS Foundation Trust has been told to take urgent action to improve its finances by a health watchdog.
Earlier this month, the troubled trust said it was appointing management consultants in an attempt to deal with its financial problems.
Monitor, the NHS regulator, said failure could be due "to the lack of adequate strength" in the management.
Peter Lee, chairman of the trust, said: "We have already begun to implement the changes that are required."
Stephen Hay, a managing director with Monitor, welcomed the recent appointment of a new interim chief executive for the trust.
'Key concerns'
A trust statement said the action followed several months of discussion with the regulator and was not a reflection on the quality of care the trust offered.
It added the safety of patients always came first.
Mr Lee said: "We are determined to secure a long term healthy future for this trust ."
The regulator cited "key concerns" including the trust's failure to deliver on its savings plans and the failure to successfully implement a new electronic patient records system.
The trust must now report regularly on its progress, said Monitor.
The trust needs to save £50m by 2015.
In October it announced it would be cutting 750 jobs.