Council wins Leeds Arena damages case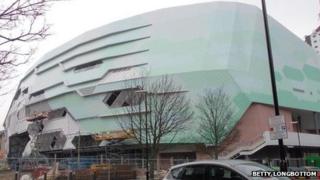 A developer has failed in its £43.5m damages bid against Leeds City Council over a contract to build the city's new arena.
The council had looked at building the arena on land owned by Montpelier Estates Ltd (MEL), but later opted for a site on Clay Pit Lane.
MEL claimed at London's High Court that procurement rules had been broken.
But a judge ruled in favour of the council, which later said it had always acted with "honesty and integrity".
The dispute arose in November 2008 when the council announced it had chosen the Clay Pit Lane land, then owned by Leeds Metropolitan University, as the preferred site for the arena development.
'Absolute vindication'
The council opted to buy the university land and undergo the development themselves, thus cancelling the tendering competition that had included MEL's site at Sweet Street in Holbeck and another site on Elland Road.
The council said at the time it believed that this was the only financially viable option.
Harrogate-based MEL alleged they were deceived into entering and remaining in the competition to develop the arena.
However after a nine-week hearing Mr Justice Supperstone accepted that the council was entitled to bring the competitive tendering exercise to a close and then to develop the arena itself when other bids were found not to be good value for money.
Appeal possible
Tom Riordan, the council's chief executive, said: "This is absolute vindication of the honesty and integrity of Leeds City Council, its members, officers and professional consultants.
"Cancelling the competition to develop the arena and progress with the scheme at Clay Pit Lane was always a difficult decision to take, but was a correct one given the state of the economic crisis in November 2008. There was certainly never any deceit involved."
Jan Fletcher OBE, Chairman of Montpelier Estates, said it was surprised and considering an appeal.
She said: "Anyone who knew what went on in this arena bid, will understand why we took this action against Leeds City Council.
"I continue to remain committed to and passionate about the city of Leeds and wish every success for the opening of the Leeds Arena later this year."