M1 motorway's £140m improvement plans to go on show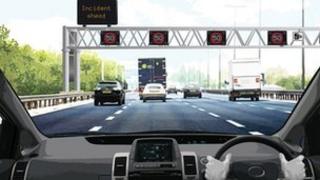 Plans for a £140m scheme to improve a stretch of the M1 in West Yorkshire are to go on show in Wakefield later.
The Highways Agency said the work would reduce congestion and journey times for the 113,000 vehicles that use that section of motorway each day.
The hard shoulder will be converted to a permanent traffic lane from junction 39 to 42.
Work is expected to start later this year and would take up to two years to complete, the agency said.
Electronic signs will also be mounted on verges and gantries displaying variable mandatory speed limits and information to warn motorists about incidents, lane closures or conditions ahead.
'Significantly lower costs'
The scheme, known as a managed motorway, is also planned from junction 32 to 35a of the M1 near Sheffield.
The agency said the work would cost "significantly lower" than widening the motorway and have "less impact on the environment during construction".
A project to upgrade the M62 between junctions 25 and 30 in West Yorkshire is currently under way and still has about a year to run.
The first hard shoulder running scheme was introduced on the M42 in the West Midlands in 2006.
The exhibitions are running at the Cedar Court Hotel until Saturday, and the Holiday Inn in Ossett next Friday and Saturday.