Wakefield NHS strikers burn dismissal notices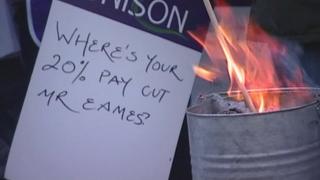 Striking staff have burned dismissal notices sent by the cash-strapped Mid Yorkshire NHS Trust.
About 70 Unison members, clerical and administration staff, protested outside the trust's headquarters in Wakefield.
The protest comes on the fourth day of a five-day strike over proposed jobs losses and pay cuts.
Graham Briggs, of the trust, said: "We are fully committed to working with union colleagues... to seek to reach a mutual agreement."
Mid Yorkshire Hospitals NHS Trust has said it needs to make cuts of £24m by April at Dewsbury Hospital, Pinderfields and Pontefract General Infirmary.
In November the trust sent redundancy letters to 74 members of staff.
Nurse ballot
Members working at the three hospitals also face pay cuts of up to £2,800 a year, the Unison union claimed.
Meanwhile union officials said they were considering a strike ballot of all their members, including nurses.
Adrian O'Malley, secretary of the Unison branch said before any vote could be taken the union would need to undertake a full consultation.
"This is something to do with everybody that works in the trust," he added.
Mr Briggs, Director of HR at the trust, said the depth of feeling over the dispute was very clear and talks with the union would continue.
"We will offer any support necessary to help union colleagues to draw up their alternative to our proposed model.
"This must however deliver the savings we need to make."
He said patient services would run as normal during the strike action.
In November, Unison members at the three hospitals also took industrial action against the proposals.