Leeds soldier Richard Walker repatriated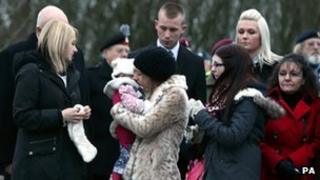 The body of a British serviceman, shot dead in Afghanistan by a rogue soldier, has been brought back to the UK.
Sapper Richard Walker, from Leeds, was killed on 7 January in the Nahr-e Saraj district of Helmand.
His body was flown into RAF Brize Norton, where the Union flag-draped coffin was carried from the plane, with full military honours.
More than 100 people then lined the street as the cortege drove through Carterton, Oxfordshire.
Sapper Walker's girlfriend, Abbie Revill, 23, was supported by friends and family as she clutched their young daughter, Lilly-Faith.
The hearse paused briefly next to a Union flag hung at half mast, to allow people to place red roses on top of the car.
As it pulled away there was a round of applause by members of the public.
'Proud, patriotic man'
His family paid tribute in a statement, which read: "Richard held two things close to his heart - his daughter and his colleagues in the Army.
"A proud, patriotic man, he died doing a job he loved, supporting his friends."
The 23-year-old was serving with 28 Engineer Regiment, attached to 21 Engineer Regiment, when he was shot by a rogue member of the Afghan National Army (ANA).
Six others were injured as they undertook construction work, when the Afghan soldier opened fire on international and ANA troops.
The Taliban claimed responsibility for the "insider attack", which occurred at Patrol Base Hazrat.
Lieutenant Colonel Chas Story, Commanding Officer, 28 Engineer Regiment, said: "Sapper Walker was the epitome of a true Sapper, one who would roll up his sleeves and get on with the task in hand no matter what, but importantly he would do it with great humour.
"He made sure that he made the most of every opportunity, both in the Army and at home; it is without doubt that he had a lot to offer and a bright future."
The number of UK forces personnel to have died since operations in Afghanistan began in October 2001 now stands at 440.