Leeds hit-and-run probe: Boy discharged from hospital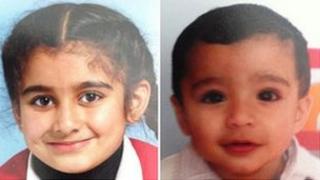 A two-year-old boy who was seriously injured in a hit-and-run crash in Leeds has been discharged from hospital.
His 10-year-old sister, Sabah Saleem, who was also involved in the incident remains at the Leeds General Infirmary. However, she is no longer being treated in intensive care.
Rayhaan Saleem and his sister were knocked down by a car in Brudenell Road, Hyde Park, earlier this month.
Three men who were arrested over the incident have been released on bail.
Public support
The children's father, Mohammed Saleem Rafique, said it was great to see his son back to his "normal self, causing chaos", adding that his daughter was making good progress.
"She's slowly recovering and improving day by day," he said. "From where she was last week and where is she now, there's significant improvement."
He thanked members of the public for their support.
"We've been getting letters left, right and centre via the hospital and mosque. It's so reassuring that people have faith in God."
West Yorkshire Police said they had been able to enhance a CCTV picture to identify the vehicle suspected of being involved in the incident, which happened at 17:20 BST on 19 August.
Last week the children's aunt, Saima Rafique, pleaded for the driver of the car to come forward.
Ms Rafique said the children had been knocked down as they returned from a shop with food for the family's Eid celebrations.