Nicola Adams welcomed in Leeds after Olympic gold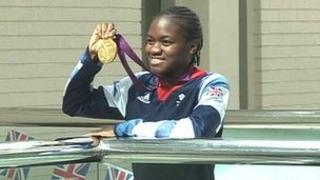 Hundreds of fans have turned out in West Yorkshire to see Olympic boxing champion Nicola Adams show off her gold medal in her home city.
Supporters converged on the Merrion Centre in Leeds to meet the 29-year-old boxer and see her medal.
Adams, who suffered a serious back injury which left her bed-ridden in 2009, described her gold medal win at the Olympics as a "fairytale ending".
"Every time I look at the medal I smile," she said.
"I have had my ups and downs in sport and I have thankfully come out on top."
'Great achievement'
Surrounded by admirers, Adams said she had no problem with finding herself suddenly thrust into the spotlight.
"It's easy, in a sense, because I am just doing what I love doing," she said.
"To think I am a role model because of doing my sport is an honour and a great achievement.
"My love of boxing has brought this to life."
Adams, who grew up on the inner-city Burmantofts estate in Leeds, admitted she had not given much thought to her future since the Olympics.
She said she had no plans to turn professional, preferring to remain amateur and fight again in the Rio Olympics in 2016.
"I haven't had a chance to think about that but I am definitely looking for 2016. Why not double Olympic champion?" she said.
For the time being, the boxer said she would enjoy her success and the "amazing" support of people in Leeds and across Yorkshire.