Leeds 'hit-and-run' leaves brother and sister critical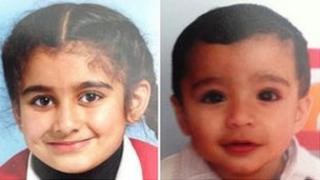 A two-year-old boy and his 10-year-old sister were critically injured when they were knocked down in a hit-and-run in Leeds.
Rayhaan Saleem and his sister Sabah were hit by a Vauxhall Astra in Brudenell Road, Hyde Park, on Saturday.
Police said Sabah had taken her brother to a shop and they were heading home when they were hit near the Makkah Masjid mosque at about 17:20 BST.
Both are in a critical condition after surgery at Leeds General Infirmary.
Police said the driver slowed down to see what had happened and then sped away.
Det Supt Paul Taylor, of the homicide and major inquiry team who is leading the investigation, said: "They went to the shop to buy some onions for their mum, preparing for Eid celebrations today.
"They were crossing the road and they were struck by a vehicle, both were injured and underwent operations overnight.
"We are very concerned about their condition."
Mr Taylor added: "Her parents have told us that Sabah in particular couldn't wait to celebrate Eid today and instead she is now fighting for her life in a hospital bed.
"Her father has told us little Sabah is the apple of his eye and as his eldest, is a big help to him and her mum.
"She enjoys reading and already likes to fuss over her younger brother and sister."
The detective said the silver car was a mark four model, meaning it was made between 1998 and 2005.
He said CCTV had been examined and experts would study more footage to try to identify the car's registration number.
"I would appeal to that driver to come forward so he or she can tell us what happened," he said.
Mr Taylor added: "This is a small, close-knit community and people want to help."
He urged anyone with information to contact West Yorkshire Police or Crimestoppers.