Shabir Choudary murder: Probation trust admits failures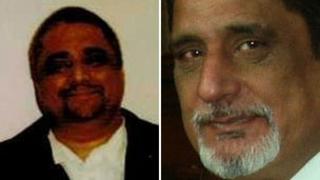 The family of a man murdered by his violent nephew who was out on licence from jail claim the probation trust effectively "pulled the trigger".
West Yorkshire Probation Trust was supervising grievous bodily harm (GBH) offender Zahir Aziz in December 2009.
Aziz went on to kill his uncle, Shabir Choudary, in Wakefield on 18 January.
The trust has admitted failures in the initial risk assessment of Aziz. An inquiry found Aziz should have been assessed as a higher risk.
The killer, 46, had a history of violent offending and was given an eight-year jail term for GBH in 2005.
Following his release, he murdered his 52-year-old uncle at a house on Gill Syke Grove in the Thornes area of the city.
He was found guilty of murder at Leeds Crown Court in August 2010 and jailed for life with a minimum term of 17 years.
Abdul Aziz, Mr Choudary's brother and the father of the killer, said: "He [my brother] was to me everything in this world. My life is gone without him."
He added: "They [probation trust] have definitely failed.
"He [Aziz] shouldn't have been out of prison."
Nesar Rafiq, Mr Choudary's nephew and Zahir Aziz's cousin, said: "If they had done their job right the chances are the man, my cousin, might not have even been out, let alone kill somebody.
"When we met the probation service and they told us what their findings were, it was like they had pulled the trigger to shoot him."
Mr Rafiq added: "I hold West Yorkshire Probation Trust solely responsible."
He said: "I see my other uncles destroyed and my mum - their baby brother has been killed."
Mark Siddal, director of operations for West Yorkshire Probation Trust, said: "It is extremely rare for an offender under supervision to commit a serious crime, but every case is one too many.
"A thorough investigation of this case was carried out and it found that, while the overall case management was good, the initial risk assessment carried out fell short of the appropriate professional standard.
"Our internal review made recommendations to improve practice and these were implemented."