Anti-crime campaigner Peter Findlay sentencing for theft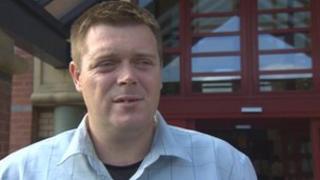 A former burglar who helped police with a crime prevention campaign has been ordered to do 100 hours community work after he admitted shoplifting.
Peter Findlay stole bedding worth £65 from a store in Leeds.
Leeds Magistrates' Court heard he told staff he was trying to show them how to improve security before admitting he was stealing to buy food.
Findlay, 34, of Hunslet, Leeds, worked with police in January after spending four years in jail for burglary.
He fronted a video in which he warned students returning from the Christmas break to protect their new gadgets.
He has not worked with West Yorkshire Police since January.
After the sentencing Findlay told BBC Look North he wanted to turn his life around and was embarrassed by his "mistake".
He said: "I have let down a lot of people. I have been punished.
"I have been a criminal all my life, a leopard can change his spots but he can't change them overnight.
"I am not going to commit crime, I am going to try my hardest."