Milk price row: Leeds dairy farmers protest ends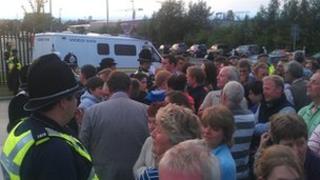 A protest by dairy farmers over milk prices has ended peacefully in Leeds.
About 150 farmers stood outside Arla Foods milk processing plant at Stourton on Tuesday, calling for a higher price to be paid for their milk.
West Yorkshire Police said the protest ended in the early hours after injunction notices were served. No arrests were made.
Protesters were allowed five minutes to speak to each lorry driver as they left the plant.
The protest comes after dairy farmers and processing firms agreed on the broad principles of a deal in their dispute over milk prices.
Farmers are angry at cuts of up to 2p a litre in the amount they receive from major milk processors, which were set to come in from 1 August and follow cuts earlier in the year.
The finer details of Monday's draft agreement will be negotiated between the two sides over the summer.
It was the second time in a month the plant had been targeted, after protesters gathered outside the plant on 19 July.