Leeds council to buy Millgarth station for retail scheme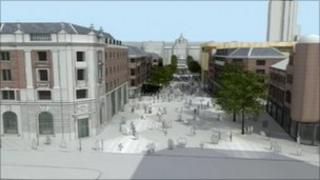 Leeds council is set to buy the city's former police headquarters to secure land for a major shopping development.
The council said Millgarth, next to the city's bus station, had the potential to be turned into a car park next to the planned Eastgate Quarters.
Sited next to the Victorian Quarter, the scheme is expected to include 130 shops and create up to 4,000 jobs.
The council said it supported developer Hammerson and buying Millgarth was an important step forward for the scheme.
The police station, which is currently owned by the police authority, will become empty when West Yorkshire Police move to their new divisional headquarters at Elland Road.
Councillor Richard Lewis, executive member for development and the economy, said: "The purchase of the Millgarth site is an important step forward for the Eastgate development, providing the capacity for essential car parking facilities which, working alongside our public transport system, are key to attracting shoppers and visitors to the city."
Construction on Eastgate Quarters was due to start in 2009 but the scheme was delayed amid a downturn in the economy.
A revised plan for the development was approved by councillors last year.
The council said no announcement had been made on when work on the scheme would start.
The authority said if the executive board approved buying the former police station, officials would agree final terms for the purchase.