London 2012: Chinese Olympians arrive in Leeds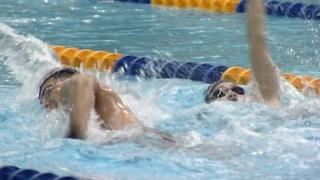 China's Olympic athletes have arrived at their training camps in Leeds to prepare for the Games.
Chinese officials selected Leeds as the country's training base last August. About 220 Chinese athletes, coaches and support staff are in the city.
Yuan Haoran, head of the Chinese swimming team, said the facilities at the Aquatics Centre at the John Charles Centre for Sport were "very good".
He said athletes found the UK's cooler climate comfortable for training.
The Chinese team will use a number of sporting facilities owned by the council, private sports clubs and the city's two universities.
Leeds City Council said the hosting deal was worth £250,000.
As well as the direct financial benefit of hosting the Chinese squad, Leeds City Council said it hoped the deal would provide "a major long-term boost to trade, commerce and tourism as well as strengthening cultural ties between Leeds, Yorkshire, the UK and China".
Speaking to BBC Look North through an interpreter, Mr Yuan said: "All the facilities and the supporting infrastructure [in Leeds] are very good for the training leading to the Olympic Games competitions.
"Leeds is a very beautiful city with a beautiful environment and fresh air."
Hao Qiang, secretary general of the Chinese Olympic committee, said arriving in Leeds was "excellent" and "like a homecoming".
He thanked Leeds City Council and Leeds University, who sent chefs to China to learn how to cook authentic Chinese cuisine for the athletes, for their hospitality.
As well as the Chinese team, Leeds will also be hosting pre-Games training for the Netherlands' swimming squad.