Charlotte Bronte letter sold for more than £11,000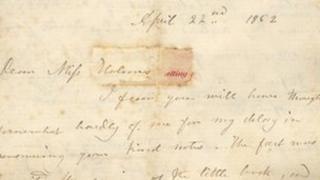 A letter written by Charlotte Bronte to an aspiring author has sold for £11,250 at an auction in London.
The three-page letter was written in 1852 to a Miss Holmes, who had sent the novelist a copy of a manuscript she had written.
In the letter, Ms Bronte talks about her experiences of working as a governess and how it inspired her most famous work Jane Eyre.
Auctioneers Bonhams said the letter was bought by a UK buyer.
Simon Roberts, manuscript expert at the auctioneers, said the letter has been in the hands of a private collector for a number of years.
He said: "Anything written by Charlotte Bronte is an event, and it's a letter that hasn't been seen for many, many years.
"To have a chance to own anything by any of them is always an event."
Last year, an unpublished manuscript written by Bronte, when she was 14, was sold at auction for £690,850.