Westfield Occupy group call for public inquiry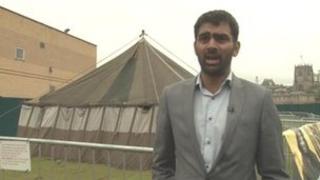 Protesters camping on a derelict site earmarked for a shopping centre in Bradford have called for a public inquiry into the stalled development.
The group, Occupy Westfield, pitched tents on 26 May to raise awareness about the lack of progress on the Westfield retail scheme.
Work started in March 2004 but was halted in February 2008 leaving a building site in the city centre.
The group met council officials on Thursday and called for the inquiry.
Alias Yousaf, of Chambers Solicitors, which is representing the protesters, said the meeting, which included council leader David Green, was not "particularly fruitful".
He said: "There was lots of hope but nothing to force Westfield to start work again.
"Businesses are going to continue to suffer until they pull their finger out."
Adnan Awan, a member of Occupy Westfield, said: "I think the council is trying, however I don't think the authority has a grip on the matter."
Protest 'counter-productive'
He added: "A public inquiry will prove to locals that the action taken in the last 10 years was viable and made with the right intentions."
He said protesters would stay in place until Saturday at least.
Mr Green said the council was working with Westfield and potential retailers to get the scheme under way.
A spokesperson for Westfield said it was committed to Bradford and was involved in negotiations to secure retailers for the scheme.
The spokesperson said: "Like the Bradford community, Westfield also wants this scheme to happen as soon as possible...
"Although the protesters' actions may be well intended, Westfield believes they may be counter-productive.
"Instead protesters should work with the community to help deliver positive messages about Bradford to retailers."