Occupy group asked to leave Westfield site in Bradford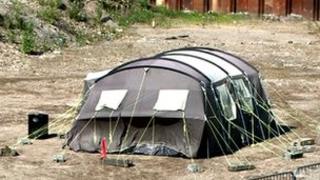 People occupying derelict land earmarked for a new shopping centre in Bradford have been asked to leave.
Westfield, the company behind the development plans, have sent a letter to protesters urging them to vacate the area for safety reasons.
"By entering and occupying the site, you are not only endangering yourselves but also others," the letter said.
The group of Occupy Westfield protesters said they were "ignoring" the letter.
Work on the retail development started in March 2004 but was halted in February 2008, leaving a building site in the city centre.
The group pitched tents on Saturday to raise awareness about the lack of progress on the stalled project, it said.
One of the protesters, known as Mr V, said: "We're not leaving. There's nothing in that letter to convince us that anything has changed.
'Serious dialogue'
"We want dates - we want it in writing. We want a serious dialogue."
In the letter from the company's solicitors, Westfield said it wanted to reassure protesters that it was "committed to progressing the scheme" in the face of economically challenging conditions.
The company said it was in negotiations to secure major retailers, including Debenhams.
The letter said the site needed to be properly secured "to avoid the very real possibility of injury both to [the protesters] and the wider Bradford public."
Mr V said half of the city centre had been knocked down to make way for the development.
"There were loads of good businesses there before. There's nothing new in the letter that we haven't heard in the best part of 10 years."
Westfield said camping on the land was "counter-productive" and that protesters should instead help get positive messages about Bradford out to potential retailers.