Shahid Mohammed still sought over Huddersfield fire deaths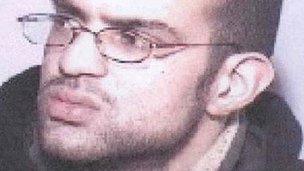 Police have made a fresh appeal about a man they want to question over an arson attack which killed eight members of a Huddersfield family 10 years ago.
Shahid Mohammed was arrested and released on bail during the murder inquiry after the fire in Osborne Road, Birkby, Huddersfield, on 12 May 2002.
Police have said he may have fled to Pakistan but he also had strong links with London, Birmingham and Leicester.
Three men were jailed in 2003 over the fire after a Leeds Crown Court trial.
The fire killed three generations of the Chishti family - five sisters, their mother, uncle and grandmother.
'Lives cut short'
The victims were Nafeesa Aziz, 35, and her five daughters - Tayyaba Batool, three; Rabiah Batool, 10; Ateeqa Nawaz, five; Aneesa Nawaz, two; and Najeeba Nawaz, six months.
Nafeesa Aziz's brother, Mohammed Ateeq-ur-Rehman, 18, also died in the flames and their mother, Zaib-un-Nisa, 54, died a week later in hospital after jumping from an upstairs window.
The investigation which followed the blaze became the largest multiple murder investigation West Yorkshire Police had handled in nearly 30 years.
In July 2003, three Huddersfield men - Shakiel Shazad, Shaied Iqbal and Nasar Hussain - were convicted over the killings.
Det Supt Sukhbir Singh, of West Yorkshire Police's Homicide and Major Enquiry Team, who is leading the investigation, said the Chishti family had suffered for 10 years.
"The family have remained dignified throughout, but have had to live with the fact that so many lives were cut short by the fire.
"Babies should have grown up to be children, children into teenagers and teenagers into adults."
He added: "I strongly believe that someone in the local community knows something about Shahid Mohammed that could help the Chishti family end their pain."