Plans to create John Peel Centre at Bradford Odeon building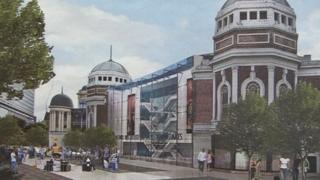 A group of campaigners wants to turn a derelict Art Deco cinema in Bradford into a music venue dedicated to the former Radio 1 DJ John Peel.
The Odeon's landmark facade has remained virtually untouched since the cinema closed in 2000.
The Homes and Communities Agency, which owns the site, has said it is committed to the demolition of the building.
A spokesman for the Save The Odeon group said John Peel had several links to the city.
'Diversity and creativity'
The scheme was inspired by the John Peel Centre for Creative Arts in Stowmarket
Jim Mitcham from the group said that under the plans, as well as being a live music venue, there would be an opportunity to access online an archive of Peel's record collection.
"Through this project we hope to celebrate the independence, diversity and creativity of the city, and of the North as a whole - values that will always be associated with John Peel," he said.
The Homes and Communities Agency inherited the cinema from Yorkshire Forward when it was abolished last year.
The agency said it is bound by a legal agreement made between Yorkshire Forward and a developer which wants to build a hotel, shops, restaurants and offices on the site. That project would mean the demolition of the building.
Save The Odeon said it planned to finance the Peel scheme as a community enterprise and was in discussions with private investors.
The Odeon, formerly known as the New Victoria, opened in 1930.