Bullied Gareth Oates 'failed by agencies' before death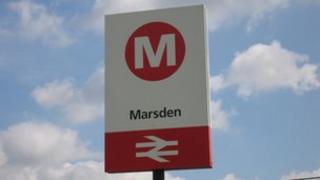 Gross failures in the care given to a bullied autistic teenager who later killed himself amounted to neglect, a coroner has said.
Gareth Oates, 18, from Suffolk, died when he was hit by a train at Marsden station in West Yorkshire in 2010.
An inquest in Bradford heard he was bullied at West Suffolk College and that his mother struggled to get appropriate mental health intervention.
Coroner Prof Paul Marks said he would be writing to agencies with concerns.
The teenager's mother, Glenys Oates, earlier told the inquest how her son, from Stowmarket, had previously tried to kill himself and had talked of taking his own life from the age of 11.
She said she became more concerned about her son's suicidal tendencies but could not convince mental health services in Suffolk of the seriousness of his situation.
Mrs Oates told the three-day inquest that her son was routinely bullied at college and had been nicknamed "suicide boy" by other pupils.
Prof Marks said it was probable treatment with medication or the appropriate use of the powers under the Mental Health Act would have "averted his death".
He said there was a clear gap in provision in psychiatric care for 16 and 18-year-olds who were too old for child services but too young to benefit from adult interventions.
He said this was probably a national problem and that he would be writing to the health secretary and the Royal College of Psychiatrists about his concerns.
System failure
Recording a narrative verdict, Prof Marks said: "He had contact with many agencies and there was a global failure in his assessment, management and access to specialist services, amounting to neglect."
The coroner said he believed the 2010 Autism Bill, which came into force after Mr Oates's death, would address some of the issues raised.
He said he would be writing to Suffolk County Council to ensure the legislation had been implemented locally.
Aidan Thomas, chief executive of Norfolk and Suffolk NHS Foundation Trust, said it noted that the coroner had identified "a failure in the system" and improvements had been made.
In a statement, West Suffolk College said staff had no evidence of bullying while Mr Oates attended college.
It said: "Gareth was supported by teaching staff and our student welfare team during his time here."