London 2012: Music concert in Leeds for Olympic torch arrival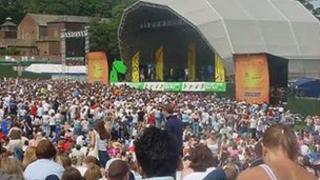 A free music concert is to be held in West Yorkshire to celebrate the arrival of the Olympic torch in the county.
The event will be at Temple Newsam, Leeds, on Sunday 24 June, the day the torch passes through Huddersfield, Halifax, Bradford and Leeds.
Mercury Prize nominees Friendly Fires, indie trio Little Comets and rock band Tribes will perform. Free tickets will be available online.
Friendly Fires said performing at the Leeds celebration would be "fantastic".
The park at Temple Newsam, comprising more than 1,500 acres of woodland and a farm, was the original venue of the Leeds Festival which is now held in Bramham Park.
Temple Newsam also hosts the annual Party in the Park concert, a one-day festival that attracts about 70,000 people.
The Olympic flame will first come to West Yorkshire on 19 June, passing through Boston Spa, Wetherby and Harewood.
It will return to the county on 24 June. After an overnight stay in Leeds the torch will travel through places including Batley, Wakefield and Castleford on 25 June.
Olympic torch concerts will also be held in London, Cardiff, Glasgow and Birmingham.
The concert in Hyde Park on 26 July is to be held on the day before the Olympic opening ceremony.
Tickets to the Leeds, Glasgow, Cardiff and Birmingham events are free.