Leaders angered by Make Bradford British documentary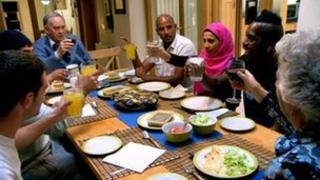 Community leaders in Bradford have criticised a TV documentary focusing on racial differences in the city.
Channel 4's Make Bradford British has put people from different ethnicities together to see if they can find common ground on what makes them British.
Council leader Ian Greenwood said it had "set out to sensationalize the issues" in Bradford.
Channel 4 said the programme aimed to overcome stereotypes and preconceptions.
Mr Greenwood said: "It is deeply offensive and insulting to suggest that Bradfordians are not British.
"I don't believe the programme-makers set out to have a mature debate, I think they set off to make what they thought would be good TV.
"Clearly we have issues in Bradford, like any community, and we are working through those issues ourselves. The last thing we need are people coming in to try and sensationalize our community in a way which is most unhelpful."
'Should be ashamed'
Bradford Council for Mosques said it was "patronising" and that it did not present a "balanced picture of life in Bradford".
However, it said the programme did highlight "the bigger issue of intolerance across differing religious and community groups".
Zulfi Karim, general secretary of Bradford Council for Mosques, said: "We were disappointed by the way Bradford as a city and its people were portrayed over the course of the programme.
"If they had dug a little deeper into the communities of Bradford they would have discovered a wealth of shared British traditions and values that are promoted across many cultural and religious groups."
Conor Ibrahim, an Asian actor and artistic director of theatre group Arakan Creative, said while the programme contributors were a fair reflection of some people in Bradford, it was the sole responsibility of the community to resolve issues on segregation and racial intolerance.
He said: "I think some of us as Bradfordians should be ashamed because we allowed a TV crew to come in and say 'right people of Bradford', and I mean the lazy ones who choose to remain segregated and ignorant, 'if you can't be adult enough to sit down and spend time getting to know one another we'll do it for you'.
"It shouldn't have to take Channel 4 or anyone else to rally us together and help us to bond as neighbours, that's what we should be doing ourselves."
Segregated lives
The programme involves eight people from different races and backgrounds who live together to see if they can uncover shared values in what it means to be British.
One of the participants, Sabbiyah Pervez, said she "felt a great need to do the programme" and had received "a lot of positive messages of support" as a result.
The first part of the two-part programme aired on Thursday and had attracted criticism before it was broadcast.
A Channel 4 spokesperson said the documentary was based in Bradford because "it is perceived to have one of the more segregated populations in the UK".
The spokesperson said: "We're not saying that Bradford hasn't worked very hard to address issues of segregation, but the title is designed to stimulate debate about Britishness and refers to a group of people who previously led segregated lives in Bradford, coming together to see if they can find a common notion of what it means to be British."
The second part of Make Bradford British is on Channel 4 at 21:00 GMT on 8 March.