Halifax Georgian Piece Hall to get £19m transformation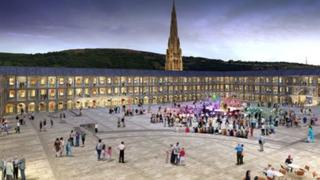 A cloth hall in a West Yorkshire mill town is to have a £19m transformation, according to plans.
The Piece Hall, a Grade I listed building in Halifax, was built in 1779 as a hall for trading cloth.
Calderdale Council said the redevelopment of the building and its courtyard would "strengthen the town's civic pride".
The Piece Hall transformation project is expected to cost almost £19m.
The Georgian building is one of only two surviving cloth halls in the whole of Europe and has had a variety of uses over 230 years.
'Economic driver'
However, Calderdale Council said lack of funding had caused it to deteriorate in recent decades.
Under the transformation plans, the council said the Piece Hall would be sympathetically restored and repaired "without losing the rich historic character of the building".
The total capital cost of the project is to be capped at £18.6m, including development costs and relocation costs for existing tenants.
A bid for £7m capital funding from the Heritage Lottery Fund will be submitted in March 2012.
Calderdale Council, funding a large part of the project, is also exploring other funding options.
The courtyard outside the Piece Hall would also become a "spectacular public space" for markets, concerts and festivals under the council's plans.
Calderdale Council leader Janet Battye said the regeneration would be a "key driver" in the economic upturn of Halifax and Calderdale.
"We'd love for everyone to get behind this project to create a wonderful town square with a chance to learn about the history and heritage of the building and its importance, that we can all enjoy for generations to come," she said.
Once the transformation is finished the building would be transferred to Calderdale Council on a 125-year lease.
Other developments planned for Halifax town centre include a young people's centre and an extension to the Square Chapel.