City holds election for new Members of Youth Parliament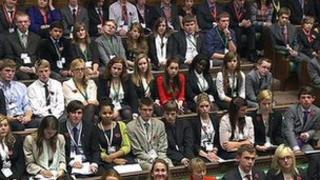 Leeds is electing candidates to represent the city's young people at the United Kingdom Youth Parliament.
Members of Youth Parliament (MYPs) are elected in every part of the UK and represent the views of the young people in their constituency.
In Leeds there are four MYP positions available and two deputy MYPs.
Once elected, the successful candidates will regularly meet with MPs and local councillors, organise events and run campaigns.
Kirsty Beeston, operations manager for the West Yorkshire base Youth Association, said: "This is the first time that we have opened up the elections to all young people in Leeds.
"So, we're hoping to receive a record number of nominations from young people who are really passionate about having their voices heard and want to make a positive difference for all young people in Leeds."
The election is being organised by Leeds City Council on 1 March with polling stations at schools and youth groups or via the council's Breeze website.
Over the last two years one million young people have voted in Youth Parliament elections.
There are 600 MYPs aged 11 to 18 across the UK. Members have conducted debates in the chamber at the House of Commons.