Revised plans for Broadway shopping centre approved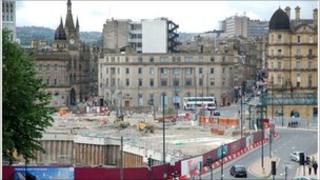 Revised plans for a long-awaited shopping centre in Bradford have been approved by the council.
Work started in March 2004 on the Broadway shopping centre development but was halted in 2008 when the economy stalled, leaving a building site in the city centre.
The council's regulatory committee has given the go-ahead for the changes and work could finally begin early in 2012.
A two-day exhibition of scaled-down revised plans was held in July.