Historic propeller on show at Leeds Bradford airport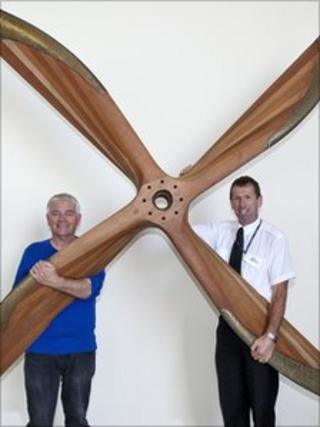 A propeller from the aircraft that made the first scheduled flight from Leeds to London in 1919 is to feature in an exhibition at Leeds Bradford Airport.
The mahogany and brass Rolls-Royce propeller from a Blackburn Kangaroo aircraft is thought to be the only surviving part of such an aircraft.
The flight was a result of a rail strike when the government took over civil aircraft for mail flights.
The propeller will feature in a display to mark the airport's 80th anniversary.
Tony Hallwood, Leeds Bradford Airport's Commercial Director, said: "We are delighted that such an important part of Leeds Bradford's aviation history will be on display at the airport to mark our 80th anniversary.
"It will serve as an iconic reminder of our region's longstanding support of air travel both nationally and internationally."
Twenty of the aircraft - a British twin-engine reconnaissance biplane of World War I - were built by Blackburn Aircraft.
The flight between Roundhay Park in Leeds and Hounslow in London took place on 30 September, 1919.
The fare was £15 and 15 shillings one way and £30 return - equivalent to £1,250.
The commercial Kangaroo aircraft was a converted bomber that was fitted with a glazed cabin accommodating seven passengers.
It was regarded as being one of the most luxurious passenger aircraft of the era, as most had an open cabin.
Only three of these aircraft were converted and were bought by Graham White Aviation.
The last Kangaroos were scrapped at Sherburn in 1927.
The propeller was restored by Dave Steele of aviation company Multiflight.