West Yorkshire breweries top Camra's UK league table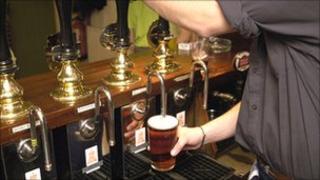 West Yorkshire has more breweries producing more types of beer than any other county in the UK, according to the Campaign for Real Ale (Camra).
With 43 breweries making 276 beers, Camra said the county topped its annual brewing league.
The figures come three months after the closure of Tetley's brewery in Leeds following 189 years of production.
Camra said Yorkshire as a whole "swept away" all competition, with North Yorkshire also fifth on its list.
'Iconic brewery'
Roger Protz, editor of the Good Beer Guide, said West Yorkshire's breweries were meeting a demand for "really interesting" beers.
"There's an old saying that nature abhors a vacuum," he said.
"You've just lost the famous and iconic Tetley's brewery, but already two new small breweries have opened in Leeds."
According to Camra's 2011 figures, West Yorkshire has gained seven new breweries in the past 12 months.
Mr Protz said Yorkshire was experiencing a "startling" growth in breweries, with more than six times as many brewers in the region than when the guide was first compiled in the 1970s.
'Rising prices'
Sam Smith, landlady of the Sportsman's Inn in Huddersfield, which has been brewing its own beer for just two months, said current economic conditions were fuelling the brewing boom.
"Beer prices kept rising and we decided that if we brewed it here we could sell it a little bit cheaper," she said.
Ewan Gordon, from Saltaire Brewery in Shipley, which has been open for six years, said Camra's figures showed demand for real ale from small breweries was "huge".
"There are a lot of microbreweries in West Yorkshire with a lot of good stuff being produced just now and business is booming," he said.
The Camra league table lists Derbyshire in second place behind West Yorkshire, with 33 breweries regularly brewing 248 beers.