Five Leeds City Council care homes face closure threat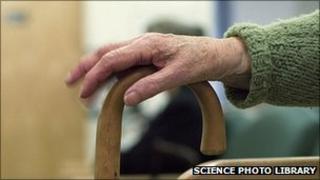 Five council-run residential care homes in Leeds have been recommended to close.
A city council report proposes the closure of Kirkland House, Westholme, and Grange Court, with Spring Gardens and Knowle Manor to shut once new homes have been built in Morley and Otley.
The report also suggests Dolphin Manor in Rothwell could close, or might be taken over by the community.
Leeds City Council said it could no longer afford to run all its homes.
The report, to the Labour-run council's executive board, said the future of eight remaining council-owned residential homes would be "subject to further review".
'Upsetting' proposals
The report said that Leeds City Council would ensure that no-one would be financially worse off if they had to move to an alternative home.
Councillor Lucinda Yeadon, executive board member for adult heath and social care, said deciding which homes should close had been a "difficult process".
"I fully accept that our customers have found some of our proposals upsetting," she said.
"However, with reducing resources and more older people to take care of, we simply cannot continue to do things exactly the same way they have always been done."
Councillor Yeadon added that the council was "confident" that older people in Leeds would still have access to high-quality care.
The report's findings come after a citywide consultation about the future of adult social care in Leeds.
'Cost in lives'
Councillor Stewart Galton, leader of the city council's Liberal Democrat group, said: "If these homes were clapped-out and half-empty then people would take a very adult view about their closure.
"But these are local facilities which are meeting local demand and we need to make sure these facilities are kept local."
Jane Campbell, whose 88-year-old mother has lived at Westholme in Wortley for more than 10 years, said the council should make cuts elsewhere instead.
"The cost in human lives is going to be phenomenal and a lot of these people can't fight back," she said.
Leeds City Council's executive board is expected to make its final decision on the report's findings on Wednesday, 7 September.