Disabled Remploy workers protest over jobs fears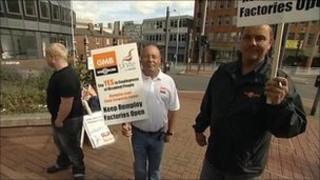 Disabled workers have held protests in Wakefield and Sheffield amid worries over the possible closure of Remploy factories across the UK.
The government is currently considering plans to cut funding to Remploy, a move which employees fear could mean the loss of about 500 jobs in Yorkshire.
Remploy has factories in Leeds, Pontefract, Chesterfield and Sheffield.
A spokesman for the Department for Work and Pensions (DWP) said "no decisions" had been made about Remploy.
But David Charles, from the GMB union in Leeds, said he was afraid workers would be "left on the scrap heap".
Remploy, which has 54 factories across the UK, was originally set up in the 1940s to offer sheltered and safe work for people with disabilities.
In June 2011, Liz Sayce, chief executive of disability rights charity Radar, published a report which said it cost on average £25,000 a year to keep a Remploy worker in a job.
The report suggested that money might be better spent supporting disabled people to find work in the commercial sector.
'Spending not cutting'
Protesting in Sheffield against the possible threat to jobs, Remploy worker Tony Gledhill said the company transformed the lives of people with disabilities.
Tina Brown, who has worked at Remploy in Leeds for almost 20 years, said employees were concerned about what conclusion the government would reach.
"They're worried about what the future holds and whether they will have a job," she said.
A DWP spokesman said: "We said we would consult on the recommendations put forward by Liz Sayce and that is what we are doing.
"The Sayce review is about spending money differently, not cutting it.
"The amount of money going into employment services for disabled is being protected, but by spending it differently there is the potential to support an extra 35,000 disabled people into work."