Bradford residents feel 'let down' by leaders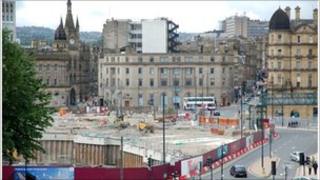 Bradford needs more jobs and better leadership at the local and national level, a new report says.
The Joseph Rowntree Foundation study found that people think politicians have not done enough to counter the idea of Bradford as a "problem city".
Local leaders were also criticised for the "stalled regeneration" of the city centre and the "non-arrival of the Westfield centre".
Ian Greenwood, leader of the Labour-led council, called the report "unhelpful".
He added: "We've got to stop analysing the past and deal with the future."
'Messed up'
Mr Greenwood acknowledged that Bradford Council needed to tackle urban regeneration, housing, education and relations between communities.
But the report also found that poverty and joblessness were major problems in the city, with high unemployment and jobs concentrated in the public sector.
Bana Gora, Bradford project manager for the Foundation, said Bradford "requires confident, competent local leadership which sets out a bold vision for the city".
Assif Hussain, a local market trader, laid the blame for the city's woes at the door of the council.
"There's a recession going on and not enough people spending money in Bradford because they'd rather go to Leeds and Halifax," he said.
"Obviously Bradford Council have messed up with the Broadway site and a couple of other things - I blame the council," he added.
The development of a Westfield shopping centre at the Broadway site in the heart of Bradford city centre was stalled in 2009 because of a lack of both funds and interest from retailers.
Bradford Council has built a temporary park at the site, but says Westfield is in the process of submitting another planning application so work on the shopping centre can get underway.
"The stalled construction has been frustrating for local people, the council and Westfield," the council said in a statement.
"The delay came about as a result of wider national and international economic problems and Bradford was not the only place in the country to have been affected in this way."