Chelsea Flower Show garden holds medal hopes for Leeds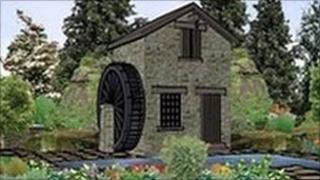 Following medal success last year finishing touches are being made to Leeds City Council's garden entry for the 2011 Chelsea Flower Show.
Last year's garden won the city's first ever gold medal and the theme for the new garden is the power of nature and water.
The centrepiece will be a traditional Yorkshire mill like those that drove the industrial revolution.
A 3m (10ft) working water wheel will pump water around the garden.
The idea for the design is to celebrate the role water power played in the industrial past and its growing role as a source of clean and renewable energy.
The garden will have a water feature surrounding the mill with areas of rockwork, trees, ferns and plants to complete its natural look and feel.
'Deep end'
Apprentice Andrew Bray, 17, is part of the council's team perfecting some of the plants which will be on display.
He said: "To be pitched in at the deep end and asked to help develop the plants for the Chelsea garden was a bit of a shock but it has been brilliant.
"Everyone puts so much effort into making sure everything is right and that sets the standard you need to reach."
Last year's gold medal-winning Chelsea Garden, which featured a large pair of canal lock gates, will shortly be open to the public in Roundhay Park.
The garden created by Leeds City Council with support from Leeds-based civil engineering firm HESCO Bastion Limited is now in preparation for the event in Chelsea between 24 and 28 May.