Company fined after Blackpool flats walkway collapse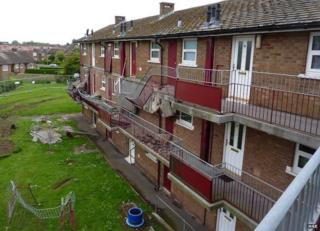 A company set up by Blackpool Council has been fined £50,000 for health and safety breaches after a flats walkway collapsed.
Firefighters had to rescue residents after a section of the second floor gave way in Newby Place in 2012.
Judge Baker, sitting at Preston Crown Court, said it was "remarkable and fortunate" no-one was killed or seriously injured in the collapse.
Residents raised concerns about the safety of the walkways in 2005.
Mike Mullen, from the Health and Safety Executive, said: "It's breathtaking really that time and time again over the course of seven years Blackpool Coastal Housing (BCH) were advised by professionals and could visually see the balconies falling away from the building and chose to take no action."
John Donnellon, who was appointed chief executive of Blackpool Coastal Housing in April, said: "BCH is not a bad company, it has done a lot of good things and some very good work in terms of the council housing stock in Blackpool.
"Its intention is to do good work, so clearly when something this catastrophic happens then it's right to be mortified; it should not happen."