Dressers Arms Wheelton, Chorley gutted by fire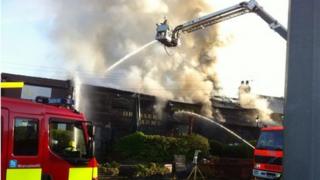 A pub and a restaurant in Lancashire have been destroyed by a severe fire.
Lancashire Fire and Rescue Service (LFRS) said the fire at the Dressers Arms and the Little Hong Kong restaurant attached to it at Wheelton, Chorley, started just before 06:00 BST.
Forty firefighters tackled the blaze at its height.
LFRS said no-one was hurt and the cause had not been identified. Crews managed to prevent the blaze spreading to two terraced houses attached to the pub.