Whitebirk retail park plans: Peel Holdings apply to Supreme Court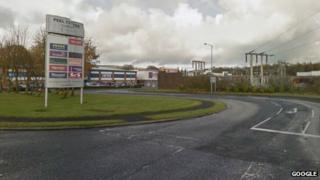 The owner of a Lancashire retail park prevented from expanding the site said it has applied to the Supreme Court to have the decision overturned.
Peel Holdings wants food, fashion and footwear stores alongside existing electrical and furniture shops at its Whitebirk Retail Park near Blackburn.
Blackburn with Darwen and Hyndburn councils rejected the plans fearing town centre shops would lose trade.
The Court of Appeal ruled in December the range of shops should not expand.
Hyndburn Council put restrictions in place on trading in goods such as fashion, food and footwear to protect shops in nearby Blackburn and Accrington town centres.
The retail park is only permitted to sell bulky goods such as white goods and furniture.
However, Peel Holdings argues expansion will provide an alternative to competing retail parks in Preston and Bolton and will create 250 jobs.
Hyndburn Council, which is yet to comment on the latest legal move, refused to relax the rules in April and a bid for a judicial review by Peel Holdings also failed.
A Peel Holdings spokesman said it "remains fully committed to continuing the substantial investment into Whitebirk Retail Park", which has started with the construction of a new unit for a furniture shop and improved access junction.
"However, following the demise of various retailers during the recession, the park is now predominantly vacant and derelict and in desperate need of further investment, providing a wider retail offer."
Blackburn MP Jack Straw has previously said Peel Holdings was using "legal subterfuge" to try to force through redevelopment plans when he led a Commons debate on the dispute in May 2012.
He said it could "undermine" government plans to rejuvenate town centres.