MP's Hillcroft nursing home abuse apology call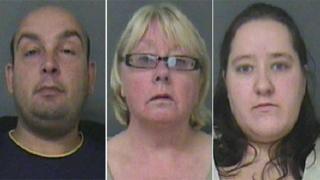 An MP has called for the owners of a care home to apologise to families of residents who were abused there.
Four care workers were sentenced on Friday for abusing elderly residents at Hillcroft nursing home in Slyne-with-Hest near Lancaster.
Morecambe and Lunesdale MP David Morris, who is involved in drafting a new Care Bill, said he was "furious" the home had offered no apology.
The home's owners were unavailable for comment earlier.
Residents were mocked, bullied and tormented "for entertainment", Preston Crown Court heard.
'Lack of management'
The court was told one man had his foot stamped on deliberately and another was nearly tipped out of his wheelchair.
The vulnerable victims were also pelted with bean bags and balls between May 2010 and September 2011.
After the trial the victims' families said in a statement there were "lessons to be learned" and they were still waiting for apologies from the staff and directors of Hillcroft.
Mr Morris said: "I think it's about time Hillcroft did apologise to those families.
"I am absolutely furious that this has been allowed to happen by the management of Hillcroft and there should be an investigation."
During sentencing Judge Michael Byrne criticised the home for a "lack of proper management" which "allowed a culture to develop where conduct of this sort was allowed to carry on".
Police said the home was now a "completely different environment, with the quality of care afforded to all residents being carefully managed and monitored".
The staff were charged with ill-treatment and wilful neglect of a person with lack of capacity under the Mental Capacity Act 2005.
Darren Smith, 35, from Lancaster, pleaded guilty and was jailed for eight months at Preston Crown Court.
Katie Cairns, 27, was jailed for five months, Carol Moore, 54, was sentenced to four months and Gemma Pearson, 28, was given a 12-month community order.