Wife killer who committed suicide had financial worries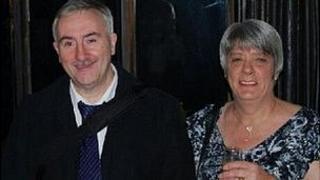 A man who stabbed his wife to death then killed himself by stepping in front of a train had financial worries, an inquest has heard.
Nigel Maude, 58, stabbed Judith, 57, and tried to strangle and suffocate her at their home in Hoghton, Lancashire.
Mr Maude was worried about the costs of his mother going into care, the inquest was told.
Deputy Coroner Simon Jones recorded verdicts of unlawful killing and suicide, at Preston Coroner's Court.
Mr Maude was hit by a train in Hoghton on 11 August.
That evening, police went to his home in Charles Crescent where they found Mrs Maude's body.
'Perfect neighbours'
A note had been left on a mantelpiece which read: "Sorry I'd lost her".
The weapon used was thought to be a kitchen knife found under a bed, the inquest was told.
Next-door neighbour Robert Taylor said the couple were "perfect neighbours" who "always seemed to do everything together".
Mr Maude had seen his GP the month before and complained of insomnia and feelings of stress over the living arrangements of his mother, the inquest heard.
Det Insp Andrew Hulme told the inquest he had believed Mr Maude's mother going into the care home and the financial implications of this were the "trigger" for his actions.
Mr Jones said: "It (the cause) may be stress in relation to issues relating to his mother going into a home. We don't know.
"The word tragedy is readily used but this indeed is a tragedy, completely unexplained."