Soldiers' faces projected on Preston cenotaph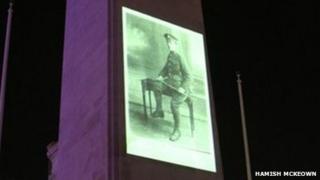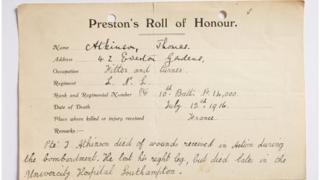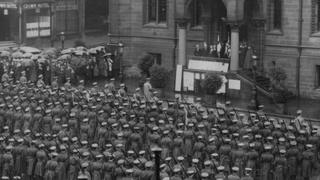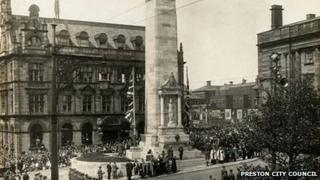 A sound and light show has been staged at Preston's cenotaph as part of a project to mark the 100th anniversary of the outbreak of World War One.
Pictures of soldiers who died during the conflict were projected on to the newly-restored cenotaph and their stories were heard.
Postcards sent to Preston from those serving in France were also seen.
The pictures came from collections at the Harris Museum and Lancashire Infantry Museum.
'Personal stories'
Emma Heslewood, curator of history at the Harris, said: "This project was inspired by the original roll of honour forms and makes the connection between these and the cenotaph.
"The work gives us the opportunity to highlight some of the personal stories behind the names.
"I hope that everyone who sees it will think about the sacrifice that Preston men made."
Originally built to commemorate the fallen of WW1, the cenotaph will be rededicated when it is officially reopened for the centenary next year.
The art installation was seen at the cenotaph on Market Square, Preston on Saturday evening.