Mechanical elephant Rajah returns home to Halton Mill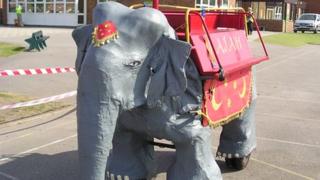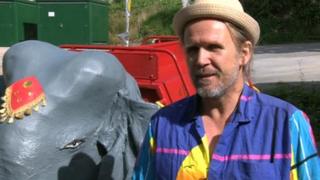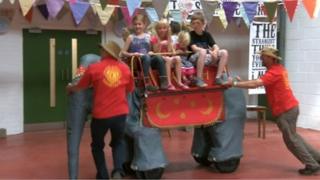 A mechanical elephant built in the 1950s at an engineering works in a Lancashire village has returned home.
Organisers said 250 people turned out for the official homecoming of Rajah to the former Luneside Engineering works in Halton, near Lancaster.
The building is now an "eco-friendly enterprise hub" called Halton Mill.
When the hub manager Chris Coates discovered the elephants, which were used as a childrens' ride, were made at the site he set about tracing one.
'Back to its birthplace'
Mr Coates said a former Luneside Engineering apprentice told him about the 7ft (2.2m) high elephants the firm produced for tourism firm Macadese Entertainment Ltd.
He said he discovered the elephants were powered by 250cc petrol engines, could carry about six to eight children depending on size and were popular attractions at seaside resorts including Morecambe.
He tracked down Rajah, one that was used to lead the Crosby Carnival and was owned by charity Crosby Lions.
Mr Coates said the Crosby Lions confirmed it was a Luneside elephant and "they were more than happy to let us bring it back to its birthplace".
Organisers said Eric Smith, whose father Frank designed the Luneside elephant, turned up to see his father's handiwork.
He said: "My father had been to Bellevue amusement park and seen a real elephant, and came back saying his was going to make a mechanical elephant.
"I was 16 then and more interested in going out, but I couldn't miss the chance to see it today."
Luneside Engineering closed in 2004 and the building became derelict.
Lancaster Cohousing purchased it in 2009 to create an "eco community" and it now offers carbon workspace for small enterprises, community organisations, freelancers and artists.