Abbeydale Care Home residents 'left in pain'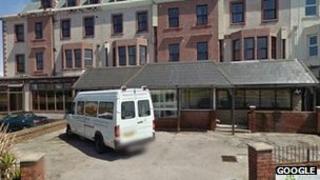 Residents moved out of a Lancashire care home due to safety concerns were being left in pain and potentially abused, inspectors have said.
Blackpool Council moved 28 residents out of Abbeydale Care Home in Blackpool in early June and it has since closed.
The Care Quality Commission watchdog inspected the home after the council raised the alarm.
The former operators of the home have been unavailable for comment.
The report, which has now been made public following the inspection in June, said the home failed five out of six standards.
It found residents had been left in pain without medication, as well as evidence of some being abused after inspectors found a person with "unexplained injuries."
Scabies and ringworm
Staff at the home, which mainly supported older people and those suffering with dementia, were obstructive and unhelpful, the report concluded.
It stated: "One person who had moved from Abbeydale the day before the inspection had active scabies and untreated ringworm and another fungal infection.
"Medication was not always given effectively or appropriate action taken when it was refused.
"We found that people had not always been kept safe."
Inspectors made an unannounced visit to the home two days after Blackpool social services and Blackpool Commissioning Group cancelled their contract to provide nursing and personal care.
Social services found the care provided had been "unsafe or neglectful".
After the contract cancellation was announced, the home's managing director Simon Crowther said problems had been addressed and there had been "continual improvement".