Lancashire Fire Service could cut 160 firefighter posts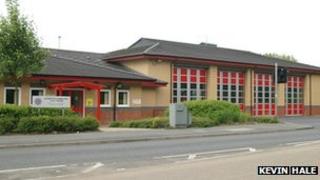 Up to 160 firefighter posts could be cut in Lancashire over the next four years if a service review goes ahead.
Lancashire Fire and Rescue Service proposals would also see five engines cut from a 60-strong fleet by 2018.
Chief Fire Officer Chris Kenny said the plan, which will be subject to a public consultation, would not compromise public safety.
The Fire Brigades Union (FBU) general secretary Matt Wrack said the cuts would "put lives in danger".
The review, the first since 2009, proposes changes to emergency cover in an effort to "save at least £10m" from its £60m budget, Mr Kenny said.
"Underpinning this review is a 25% cut in the grant we receive from government since 2011-12 that means we must save by April 2016," he said.
"We have already identified savings of half the amount as a result of economies made in administration and specialist support.
"However, the scale of the savings we have to make are only possible if we also reduce the resources allocated to emergency cover."
The job losses, which account for around 15% of the service's firefighters, would affect both full-time roles and those on "retained duty", who act as auxiliary officers on major incidents.
Across the four years covered in the review, engines would be removed from Hyndburn, Padiham, Bamber Bridge, Blackpool and Lancaster.
There would also be changes to emergency cover at Skelmersdale and South Shore and the establishment of a specialist rescue hub at Chorley.
A spokesman for the service admitted that the move may not achieve the total required saving of £10m by 2016, but that "it won't bring things to a grinding halt if there's some slippage".
He added that the service was "aiming to accommodate [the job losses] with our freeze on recruitment combined with retirements".
'Irresponsible'
Mr Kenny said the review was not just about saving money but also because there had been "a massive reduction of 60% in the number of emergency incidents we attended over the past ten years".
He said the reduction was "attributable to the fire prevention work we have done in part, but also to improvements in building design and fire alarm systems and the introduction of fire-retardant furnishings and fittings in the home".
He added that it would be "irresponsible not to take account of this significant downturn when we decide exactly how much taxpayers' money we must allocate to emergency cover".
Steve Harman, Lancashire secretary of the Fire Brigades Union, reiterated the opinion of the general secretary and said that "any cuts to the budget will inevitably affect the front line fire service".
"Lancashire Fire and Rescue Service is going to be struggling to provide adequate protection.
"The loss of an appliance in Blackpool is a particular problem - it has high areas of social deprivation and massive fluctuation in the numbers of residents.
"It is unacceptable to lose a fire engine there - it has such a high life risk."
The plans will face a public consultation period of 12 weeks from 29 July before going before the Lancashire Combined Fire Authority for approval.